Having been on two short holidays over the last couple of months visits to the cottage have been less frequent and with the weather being mild and wet the garden has gone berserk. So the last two visits have been mainly maintenance gardening, cutting hedges, lawns and weeding.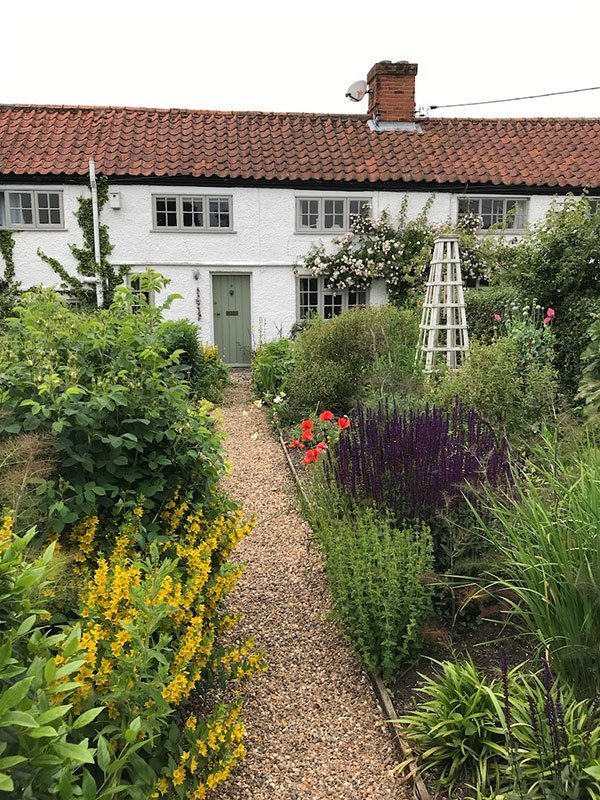 13- 14th July 2019
So this weekend visit was the same as the last except this week you can throw in a not pleasant encounter with a guest. Luckily most of our guest are great but every so often you get a problem.
We had a two-week guest who shall we say was economical with the truth when booking a stay for 3 adults. I met one of them at the beginning she was there with her cousin and a dog (no mention of the dog when booking) but the cousin was actually a 4th person as her sister and dad were joining her later in the week.
To be fair there was never more than 3 people at one time so that was fine. Just would have been nice to have been told and for them to pay the additional fee for the dog. but maybe that was not deliberate. But alarm bells started to ring when Jo called on the Friday to say she could not get in to change the sheets as Dad was sleeping on a bed in the living room as he had dementia. Still, there have been occasions before when jo has had to just leave fresh linen and it has not been a problem.
But fast forward a week to last Friday and I get a call from Jo to say the house had been left in a state with tons of rubbish. It took her and her son 4 hours to do the cleaning. and we were left with lots of bags of rubbish to deal with (Richard did that bless him).
To make matters worse dad was incontinent and we had soiled duvet which had to be thrown and towels with unpleasant stains. Now don't get me wrong I feel sorry for them dementia is a dreadful thing but surely they should have known and old country cottage with bathroom upstairs was not a suitable property to rent. So I consoled myself with the fact that the vast majority of guests leave the cottages as they found them.
So back to this weekend. There was a couple staying in 9. They had been slightly abrupt when phoning me to say they couldn't get it to work. a short conversation and it's fine. But on Saturday as we gardened we did not see a thing of them. Strange they stayed indoors in fine weather but perhaps they were watching the tennis I suggested to Richard. Anyway, we got on with gardening – weeding back of 8 cutting the lawns (although not immediately next to 9 and so on. Finally late afternoon they went out so I quickly put a cable across the front garden to cut the hedges in 8 while they were out. But they returned. I went up to say hello and say I hope they didn't mind the cable he completely blanked me while standing just a couple of feet away and proceeded to get the key out of the lock box.
Eventually, he acknowledged my presence and to aks me to get the key out. He then told me they were leaving because the owners had come back and they had no privacy! I told him I was the owner ("I know" he said) and I didn't know what he meant by no privacy. He complained they just wanted peace and quiet and we were drilling into walls (yes we drilled 2 small holes well after lunch5 mins max). Anyway, he just said they had had enough and were leaving and I said I was sorry to hear they felt like that. Of course, what I wanted to say was well if you want complete isolation they should not book a mid-terrace property. They had been lucky there was no one in 8 or 10 for the majority of their holiday They had been there since Monday we arrived late Friday. But hey Ho None the less I still found this rather upsetting I want all my guests to have a good holiday and love the place as much as we do and we go out of our way to try to ensure this is the case. But I guess you can't help some people.
On a positive note at least I could get into no ( front garden to do some weeding and cutting back to clear the garden path which means next visit I can continue to work on no 10 re landscaping.