A Journal of Two Cottages and a Project
18-19th May 2019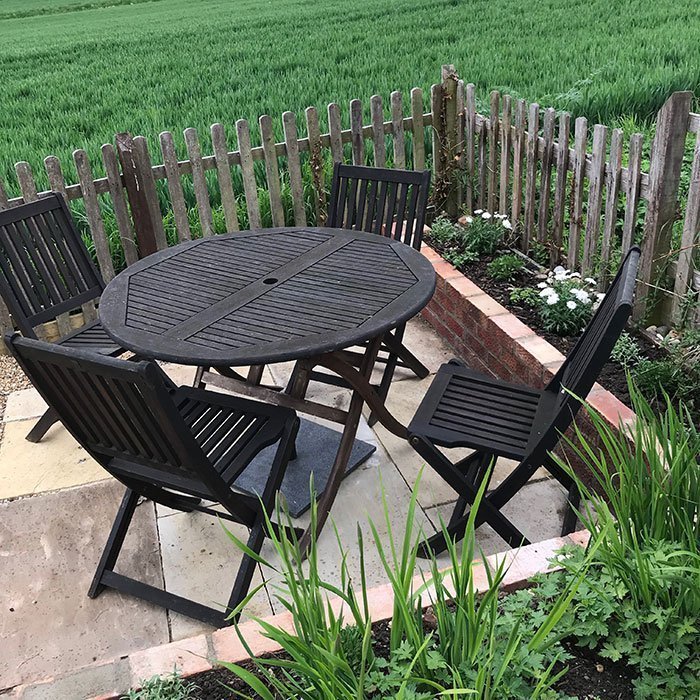 This weekend I concentrated on the two back gardens of 8 & 9. The weather was nicer than expected on Saturday. We had arrived with some bedding plants for the back of no 8 which I set to planting along with some more plants picked up from Holton Nursery.
Sarah and David were staying in no 9. They are our most loyal guests and have stayed every year since we have had no 9 except last year. That's 8 times so far. after missing last year they were delighted to be back. I was embarrassed by the state of the back garden of 9. David is a gardener and over the last few weeks, the weeds had gone wild. So as soon as 8 was planted it was on to weeding in no 9. After being out most of the day David kindly helped me finish the weeding for the borders and afterwards, we sat in the late afternoon sun enjoying a cup of tea and catching up.
Sunday was spent finishing weeding no 9 between the paving, clearing the old planter from the back of 8 and some weeding around the back apple tree. Also did some planting in the back of 9 to fill a temporary gap. By the end of the weekend, both holiday cottage gardens were looking good. Next weekend hope to make some progress on no 10 garden.
The Project!
Richard continued to build new internal wall in prep for building the supporting pillar at one end.